For both a novice specialist and an experienced professional, the knife has always been, is and will be the most important and indispensable tool.
The Just Craft team made sure that the number one tool for any chef would never let his master down. We offer high-quality and stylish knife rolls for carrying and storage of knives which are made by hand of genuine leather.


We are proud of our Just Craft Knife rolls which are a result of painstaking work.
For almost a year we've studied dozens of analogies, both custom-made and produced by well-known manufacturers. We've taken into account the reviews of the customers, marked all the possible advantages and drawbacks. We sewed a few samples, put them to the test and only after that we approved the final models and launched their production.
Ready-made knife rolls have been tested many times by the Belarussian Guild of cooks and chefs and have acquired well-deserved recognition in this professional sphere.
Benefits of Just Craft knife rolls
Popular models of knife rolls are always in stock.
Only high-quality genuine leather is used for the manufacture of our knife rolls. This is a matter of principle for us. We don't use eco-leather, any other analogies or synthetic substitutes.
Cases are sewn from half-skins using solid large items and it provides high toughness and wear resistance of our products. We ourselves purchase raw materials directly from the manufacturer and select half-skins in detail.
All knife rolls are reinforced by lightweight metal plates which are inserted across the width of the case, that's why, while carrying, knife rolls don't bend under the weight of tools and knives don't damage the skin and each other.


Cases are stitched with the threads of high toughness, all lines are very neat and smooth.
High-quality hardware increases the durability of using knife rolls and gives them an elegant appearance.
Knife rolls are designed for 6, 8 and 10 items. You can use them not only for knives, but also for other cook tools: honing steels, graters, basting brushes or spatulas.
When stored in case, metal plates don't touch knife blades – this is one of the most significant factors of guaranteeing their sharpness. We paid special attention to this point.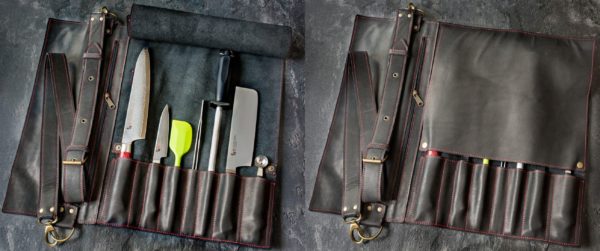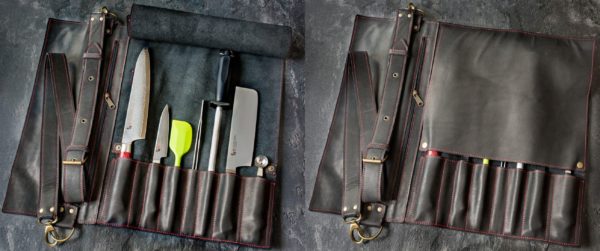 Due to the optimal distance between the pockets inside our knife rolls, knives don't touch the cutting surfaces of each other. You definitely won't get any nicks on your favorite knife because of careless transportation or storage.
Light weight and a convenient handle allow you to use knife rolls for carrying cookware without too much effort or fatigue.
You can wear our knife rolls on your shoulders. For this purpose, the set includes a removable strap adjustable in length.
A pleasant bonus is a pocket on the inner side of the roll. You can store in it business cards, small equipment, your favorite checklists and any other items you need.
The knife bag is very easy to take care of. It's enough to remove dust and dirt from the surface of the dry skin with a special brush when needed.
All items are sewn in Belarus by skilled and experienced craftsmen, which undoubtedly guarantees a high quality of knife rolls.
Just Craft knife roll will never let you down. All your tools will always be in complete safety and order.
Additional advantages of Just Craft knife rolls
An individual pattern can be applied on the valve or the front side or the knife roll by laser engraving. This is a very fast and inexpensive process, which requires from you only a vector sketch.
Knife rolls can be an ideal gift for the chef. True professionals know how essential it's to protect their expensive tools and will really appreciate such a cool accessory!
Cases for storing the knives are a dream for a novice cook! Even if you have a few knives so far, a knife roll will definitely initiate your valuable collection.
Branded knife rolls are an excellent solution for corporate clients and HoReCa suppliers.
Order, payment and delivery
 You can choose the available models or get your knife cases custom-made.
Lead time – 2-3 days
Delivery – by mail in CIS countries
Payment – online by credit card, by cash on delivery.