Description
Leather Chef's Knife Roll Mustang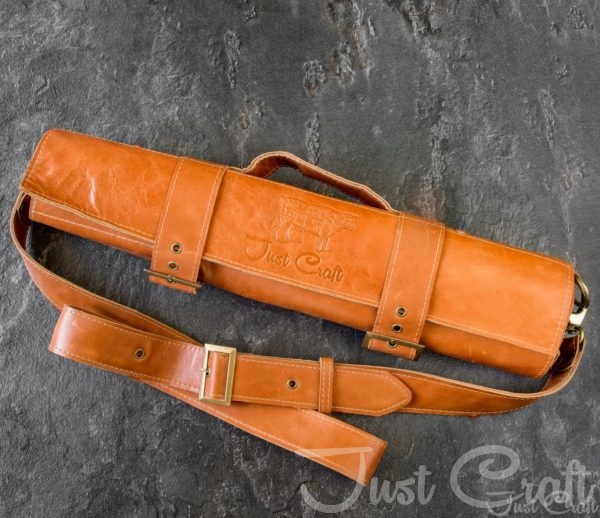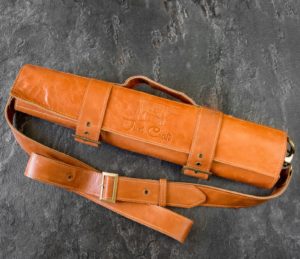 Purpose: a case-bag for storage and transportation of knives and other cook tools.
Material: high-quality genuine cattle leather with a polished front surface of a homogeneous structure. It's slightly glossy, without creases. The material is durable, smooth and perfectly holds the shape of a knife roll.
Colour: terracotta.
Features of Leather Chef's Knife Roll Mustang:
An ultralight reinforcing element is sewn along the width of the knife roll, which provides toughness and prevents its deformation.
On the upper side of the roll there is a short handle fixed with eight reliable seams.
The 'Mustang' roll can be carried on the shoulder with the help of a removable long strap.
The long strap is fixed with metal carabiners on the sides. Two strap buckles reliably fix the case-bag in a folded state.
The length of the strap can be loosened or tightened depending on the individual preferences and characteristics of the owner.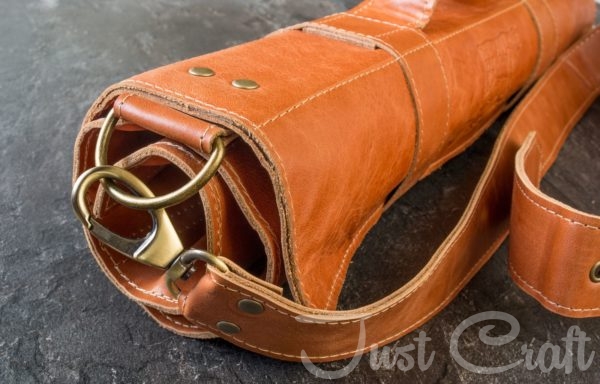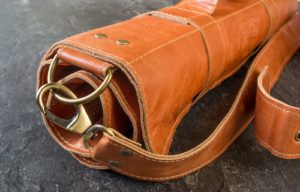 In a twisted form, the case-bag is securely fastened with two straps with buckles.
Knife roll closes and opens easily. It's enough to fasten or unfasten two straps stitched to the front side of the case.
Along the upper edge of the inner side of the roll, a leather cloth valve is sewn with strong threads. It is fastened with metal buttons.
On the inner side of the roll there are spacious and deep pockets for cooking equipment. The valve covers the pockets for the cookware, protecting the tools from interacting with the metal elements of the roll.
In order to have everything you need at hand, there is an additional pocket with a zipper on the inner side of the roll. You can store in it small equipment, business cards or any other small items.
All metal elements of the roll are made in such a way so as not to touch the blades of the knives and not to damage them.
Additional features of Knife roll Mustang:
An individual pattern can be applied on the valve or the front side of the roll by laser engraving.
Knives are not included!