Description
Leather Chef's Knife Roll Savannah (for 8 knives)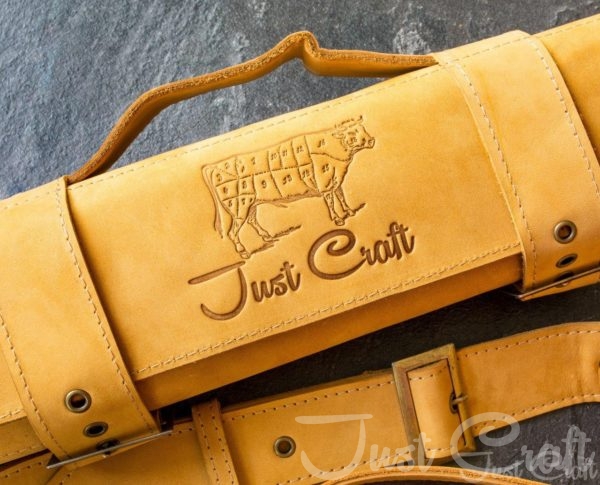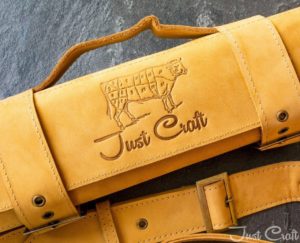 Knife rolls at a discount are test models of Just Craft cases. They don't differ from the original models in their characteristics, functions and quality.
This model has a heterogeneous skin color on the outer and inner surfaces of the roll.
This peculiarity affects only the aesthetic perception of the product and doesn't have any impact on its quality.
Purpose: a case-bag for storage and transportation of knives and other cook tools.
Material: high-quality genuine cattle leather with a natural front surface, without gloss. The material is elastic, strong but soft to the touch.
Colour: sand (the shades inside and outside the roll differ from each other)
Features of Knife roll Savannah:
An ultralight reinforcing element is sewn along the width of the knife roll, which provides toughness and prevents its deformation.
The 'Savannah' roll has two handles – a short fixed handle and a removable long strap, so it can be worn in hands, on the shoulder or across the chest.
Both handles are firmly fixed: the short one is fixed with reliable seams on the upper side of the case, the long strap is fixed with metal carabiners on the sides. Two strap buckles reliably fix the case-bag in a folded state and prevent the tools from falling out.
The length of the strap is adjustable depending on the individual preferences and characteristics of the owner.
Both hands provide comfort for carrying different types of equipment.
In a twisted form, the case-bag is securely fastened with two straps with buckles.
Chef's inventory is placed into deep and spacious pockets located in a row on the inner side of the roll. They are covered with a leather cloth valve sewn with strong threads and fastened with metal buttons. The peculiarities of mounting the valve don't allow the tools to move, it protects the knives and other tools from interacting with metal elements.
The number of pockets depends on the variation of the roll 'Bridge'
The roll 'Bridge' is a multifunctional case. You can use it for carrying not only knives, but also any other small tools and objects you need for cooking. In order to have everything you need at hand, there is an additional pocket with a zipper on the inner side of the roll. You can store in it small equipment, business cards or any other small items.
All metal elements of the roll are made in such a way so as not to touch the blades of the knives and not to damage them.
Additional features of Knife roll Savannah:
An individual pattern can be applied on the valve or the front side of the roll by laser engraving.
Knives are not included!